Electronic Device Industry
Observation and Measurement of Semiconductor Wafers and IC Designs Using Microscopes
There has been intense competition in the semiconductor industry to produce smaller and more functional products, improve productivity, and reduce costs. In response to increasingly smaller designs and larger diameter wafers, more advanced quality assurance and even faster R&D and inspection continue to be required.
This section introduces new application examples of KEYENCE's latest 4K Digital Microscope, which makes the conventional inspections in the semiconductor industry much more advanced and efficient.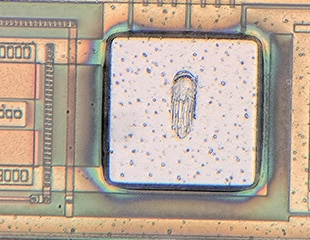 Larger Diameter Wafers and New Requirements
Wafers are indispensable in the manufacturing of semiconductors. To be used in increasingly smaller devices, semiconductor products are required to be more compact, but have higher functionality and quality. To manufacture value-added products effectively, many manufacturers are competing against each other in the areas of research and development, development of manufacturing technologies, and quality control.
One popular example to increase productivity is to produce larger diameter silicon wafers so as to produce more chips from a single wafer. The production of larger diameter wafers has been studied for many years to meet various requirements such as reduced loss due to defects, higher flatness, and lower costs. To produce larger and flatter wafers, double side polishing is considered to have advantages over single side polishing, and thus double side polished wafers with a diameter of 12 inches are most widely produced. Wafers with a diameter larger than 12 inches have appeared in recent years, and wafers with a diameter of 15 inches or even larger are expected to be produced in the future. To ensure stable quality of such wafers and further increase productivity of IC chips, constant research and development is crucial.
The popular circuit patterning technologies include high-definition screen printing, which efficiently prints patterns fine enough to be used in micro-electromechanical systems (MEMS), and inkjet coating , which enables efficient small-volume manufacturing of many product types. Because these components are so critical, advanced inspection and evaluation is required.
Inspection of Wafers and IC Designs
In semiconductor manufacturing, even extremely small defects and foreign particles can cause performance issues. Wafers are commonly transferred by loaders and inspected using multiple different instruments, including optical microscopes and scanning electron microscopes (SEMs). However, the fierce competition in the market and increasingly smaller features has led to an increase in inspection speed and accuracy.
Problems with conventional observation instruments
Optical microscope

Resolution is not high enough to observe small features at high magnification.
Inspecting for foreign particles is time consuming
The observation angle is fixed, which makes it impossible to observe the edges of a wafer.
Measurement is not supported and thus targets need to be moved to another inspection device and positioned again for measurement, which increases the number of steps in the inspection procedure.
Scanning electron microscope (SEM)

The sample must undergo sample preparation in a vacuum chamber.
Monochrome images are obtained, limiting inspection capabilities.
Latest Solutions for Inspection of Wafers and IC Designs
For the past 20 years, KEYENCE has repeatedly improved its digital microscopes using direct customer feedback. The latest VHX Series uses improved functionality and 4K imaging to overcome problems seen with conventional microscopes and SEMs.
This section introduces inspection examples of wafers and integrated circuits using the VHX Series 4K Digital Microscope. All examples introduced here use a single VHX Series unit.
The VHX Series, a New Powerful Partner in the Semiconductor Industry
In addition to the functions introduced here, the VHX Series high-definition 4K Digital Microscope is equipped with many more useful functions for research and development and manufacturing sites. For semiconductor wafers and integrated circuits, a single unit is able identify defects, capture images, perform 2D and 3D measurements, and automatically create reports.
Advanced automatic control and image processing allow even beginners to capture clear 4K images quickly with simple operations. This dramatically improves both inspection accuracy and work speed.
For additional product info or inquiries, click the buttons below.