Safety
Protect operators from machine hazards.
Lineup
What makes a light curtain "robust"? KEYENCE has designed a light curtain with a structure that prevents damage from parts or tools by narrowing the exposed lens area and recessing it in an impact resistant housing.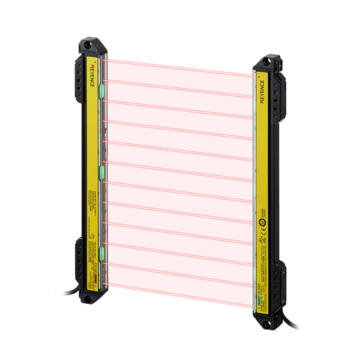 Approximately 1/2 the size of conventional light curtains*. In the past, compact applications made it difficult to integrate light curtains due to the size of the light curtains. This is why KEYENCE developed the GL-S Series of compact safety light curtains. Featuring two unique designs and simplified wiring options, the GL-S Series offers ideal solutions for countless safety needs. (* Compared to the volume of conventional KEYENCE models)
For safety and efficiency in the workplace. Introducing a safety light curtain completely focused on visibility.