Laser Marking Systems / Laser Markers
Products Lineup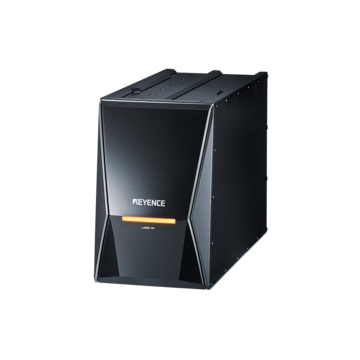 Newly developed hybrid laser
Fast and clear marking on and processing of resins and metals
Features
Full-Field Auto-Focus
Autofocus Anywhere
Mark in-focus on any part, anywhere.
The MD-X laser marker comes standard-equipped with a built-in distance sensor that enables automatic focal corrections. Eliminate manual height adjustments due to part variations in a few simple steps.
Built-In Vision
Mark the same location on any part, anywhere.
The MD-X Series contains a camera inside the laser marking head which can automatically identify a target's shape. The laser marker can then adjust for X, Y and theta offsets to ensure the marking position is always correct.
The marking system is even able to distinguish between parts and mark each part accordingly.
Data-Driven Analytics
Automatic fault protection and monitoring from anywhere.
The new MD-X uses predictive maintenance to eliminate problems before they occur. In the unlikely event of a marking defect, the laser marker features a wide range of diagnostic tools to identify the root cause and deploy countermeasures.
3-Axis control high-power laser
Ultra high-speed marking on and processing of metals
Features
High-Power Fibre Laser Technology
In addition to the 30 W model, a 50 W model with best-in-class output has been added to our lineup. High-power fibre laser technology leads to remarkable improvements in marking time, production efficiency, and quality.
Scanner Controls to Match Your Application
The MD-F Series makes it possible to select the optimum laser scanning control to match the application. The optimum marking parameters can easily be selected for the material and content being marked. This makes it possible to improve marking time and quality in nearly every application.
3-Axis control CO2 laser
High-quality marking on and processing of paper, resin, etc.
Features
Reduced Setup Costs and Installation
The ML-Z Series locates the focal length at any distance within a 42-mm range. There's no need to design a complex mechanism to adjust the height of the marker during product changeovers.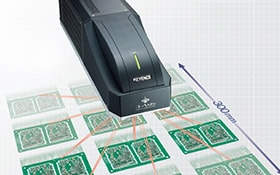 300 x 300 mm Marking Area with Unprecedented Accuracy
Typical wide area marking applications require either a multiple marker installation, or an X/Y stage to index the target. The ML-Z's 300 mm marking area reduces installation costs by eliminating the need for multiple marking heads and mechanical index devices. The variable focal range and spot size also helps to keep marking precision equal throughout the entire marking field.