Vision Sensors
A sensor to solve any detection application. With built-in camera and optimised lighting, a wide area can be captured with an image and stable detection of multiple targets is possible even if they are misaligned.
Lineup
Difficult applications that formerly required multiple conventional photoelectric sensors or proximity sensors can now be tackled easily and at low cost with one IV Series vision sensor.
Features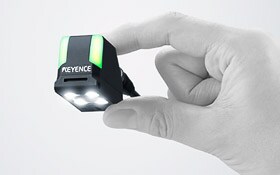 Ultra-Compact
The head can be installed anywhere thanks to its smallest-in-class size.
Easy to Use
Setup can be complete in 1 minute as a result of this product's easy operation.