Static Eliminators / Ionisers
Ionisers and static eliminators that automatically monitor and optimise static elimination of a target. Equipped with maintenance features that maintain high-performance for longer, the lineup includes a bar type, a blower type, and a spot type. This allows for elimination in various environments, from entire rooms to specific points.
Products Lineup : Bar Type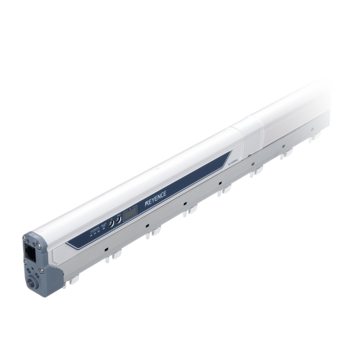 Eliminate static electricity for a target area of up to 3000 mm at an installation distance of 300 to 1500 mm. The energy-saving design reduces running costs by 60%. The SJ-E Series is KEYENCE's flagship static eliminator.
Features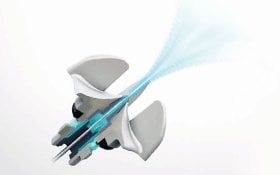 The three technologies that support our ability to provide optimum static elimination with the lowest air volume in the world
By using the first supersonic structure ever developed in the history of ionisers, KEYENCE has increased the speed of ions past the speed of sound, which makes the fastest static elimination in the world possible with an extremely low air volume.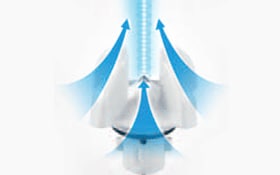 Optimum Static Elimination & Energy Saving
We have used de Laval nozzles, which are used in supersonic jet engine technology, in the electrode probes to realise our supersonic structure. The air speed exceeds the speed of sound, which enabled us to rapidly improve the speed at which ions attach to the target. In addition, the shape of the electrode probes, which makes use of fluid mechanics, pulls in the surrounding air to increase the air volume. These two technologies are what enable static elimination at high speeds and over a wide range with the lowest air volume in the world.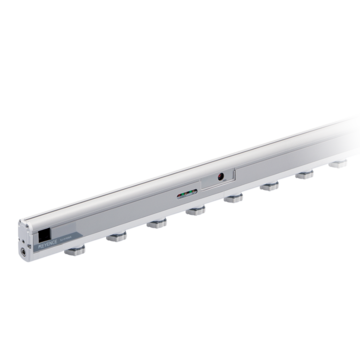 Eliminate static electricity on a target area of up to 3000 mm at an installation distance of 300 to 1500 mm. The SJ-H Series provides high-speed static electricity elimination and is capable of eliminating static throughout the entire installation area.
Features
High-Speed Static Elimination with No Air Flow
I.R.G. structure for air flow-free high-speed static electricity elimination
In conventional models, the GND plate essential for ion generation is mounted externally. KEYENCE's SJ-H Series, however, is the first to adopt the I.R.G. (Insert Ring Ground) structure, which includes the plate inside the ioniser. By directing the generated ions to the target rather than the GND plate, loss is minimised and the number of ions applied to the target increases. This allows for high-speed static elimination five times faster than conventional models.
Taking Advantage of a Dedicated Built-in Booster for Static Electricity Elimination over a Wider Range and at Ultra-high Speeds
Newly developed booster for ultra-high-speed static elimination over a wide angle
The new aero body was developed with thorough fluid analysis to minimise air resistance. With the world's first wide-angle booster, the SJ-H Series achieves a 90-degree-wide static elimination angle by utilising the Coanda effect with the air flowing from the booster. By attaching the straight air booster with extraordinary ion transport capabilities, an unparalleled static elimination speed is achieved. This function can ensure excellent static elimination capacities at ultra-long operating distances for highly charged objects.
With wide-angle booster attached (side view)
With straight air booster attached (side view)
Products Lineup : Blower / Fan Type
Products Lineup : Point / Spot / Gun Type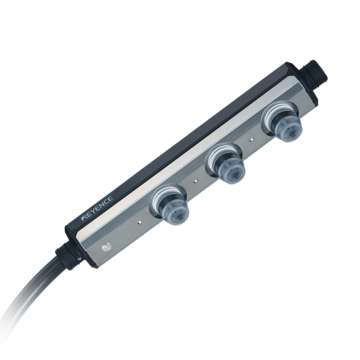 Eliminate static electricity for a target area of 200 mm at an installation distance of up to 200 mm. The SJ-M Series boasts an ultra-compact ⌀10 mm static electricity elimination head suitable for installations within equipment or in narrow spaces.
Features
Ultra-small Static Elimination Head Has No Limitation on Installation Space
Since the SJ-M Series provides a direct static elimination structure that directs the ion generation point at the tip of the head, it allows for high-speed and high-precision static elimination where it is needed most.
Static Elimination over Areas at Distances of 1 m or More Using a ⌀12 mm Head
Remove static electricity from an area as large as 600 × 1500 mm using just a compact head. Eliminate static from more than 1 m away in under 1 second. Use branching to remove static electricity from inside devices.
Static elimination range and time (typical) (Applied pressure of 0.5 MPa)