Sheath-Sensing Ioniser
SJ-H series
Sheath-Sensing Ioniser
SJ-H series
Removal of Static Electricity from Entire Rooms High-Speed Static Elimination without Air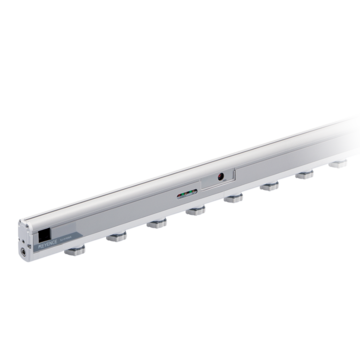 Eliminate static electricity on a target area of up to 3000 mm at an installation distance of 300 to 1500 mm. The SJ-H Series provides high-speed static electricity elimination and is capable of eliminating static throughout the entire installation area.
Applications
Static elimination in the coating process of bumpers

Static elimination of films

Static elimination of slitters

Defect prevention of adhesive painting on cardboard
Features
High-Speed Static Elimination with No Air Flow
I.R.G. structure for air flow-free high-speed static electricity elimination
In conventional models, the GND plate essential for ion generation is mounted externally. KEYENCE's SJ-H Series, however, is the first to adopt the I.R.G. (Insert Ring Ground) structure, which includes the plate inside the ioniser. By directing the generated ions to the target rather than the GND plate, loss is minimised and the number of ions applied to the target increases. This allows for high-speed static elimination five times faster than conventional models.
Taking Advantage of a Dedicated Built-in Booster for Static Electricity Elimination over a Wider Range and at Ultra-high Speeds
Newly developed booster for ultra-high-speed static elimination over a wide angle
The new aero body was developed with thorough fluid analysis to minimise air resistance. With the world's first wide-angle booster, the SJ-H Series achieves a 90-degree-wide static elimination angle by utilising the Coanda effect with the air flowing from the booster. By attaching the straight air booster with extraordinary ion transport capabilities, an unparalleled static elimination speed is achieved. This function can ensure excellent static elimination capacities at ultra-long operating distances for highly charged objects.
With wide-angle booster attached (side view)
With straight air booster attached (side view)
The SJ-H Series includes a self-diagnosis function that monitors the ion generation level. With the bar LED and alarm outputs, the ioniser alerts you when maintenance is required.