Laser Marking Systems / Laser Markers
Laser Marking in the Battery Industry
The demand for vehicle batteries is increasing. EV, PHV, and HV vehicles are growing in popularity, and mobile charging terminals are a common sight. These vehicles are, of course, all powered by lithium-ion batteries. EV, PHV, and HV vehicle manufacturers choose cylindrical, prismatic, and pouch-type lithium batteries. All these battery types require different care, processing, and assembly, but they can benefit from laser processing.

Laser marking and laser processing play an important role in the battery manufacturing process, from managing part traceability to improving part quality.
Types of Lithium Batteries
Cylindrical
Cylindrical batteries are the most common type of lithium-ion EV batteries. They are made up of layered electrodes and separators rolled together with an aluminium or steel casing.
Prismatic
Prismatic batteries are the largest lithium-ion EV battery. They are made up of layered electrode sheets and separators with an aluminium or iron casing.
Pouch
Pouch batteries are the smallest lithium-ion EV battery. They are made up of layered electrodes and separators within a sealed, flexible polymer-coated aluminium foil casing.
Marking on Cathode and Anode Foils
In the first step of the battery manufacturing process, manufacturers obtain a slurry (semi-liquid metal). After receiving a slurry, cathode, and anode foils are pressed and slit (cut). Lasers then mark these foils according to inspection results (data on thickness, defects, etc.). These marks are for quality control purposes. The quality control marks may be 2D codes, serial numbers, or a design.

Laser Marking is an easy way to add these marks, especially 2D codes. KEYENCE's diverse laser lineup has a well suited solution to handle every 2D code marking application. With industry leading beam control, and integrated 2d code reading capabilities, the KEYENCE laser lineup is a perfect fit for your tracking and traceability needs.
Damage-Free Marking
Fibre laser markers have high outputs, so they typically cause heat stress and generate particles while marking foils, which can cause issues during production. KEYENCE's Hybrid laser MD-X Series mitigate heat stress to provide damage-free lithium battery marking, even on thin electrodes. The MD-X reduces battery manufacturing damage because of its high peak power and short pulse duration.
UV Laser Marker / Hybrid Laser Marker
Fibre Laser Marker
2D Code Marking on Battery Cases
Marking battery lids with 2D codes that contain manufacturing information improves traceability management. 2D codes store loads of information that can be accessed in seconds. The battery manufacturing information could include the timeline, supply chain movement, materials used, technician name, etc. With secure traceability management, customers and lithium battery manufacturers are protected.

Manufacturers can quickly recall products and find the root cause, while customers receive speedy information about their products. Not only that, but the quick recall allows manufacturers to stop a defective production before it continues to sell.

On an even wider scale, EV/PHV/HV regulations vary worldwide. Multiple 2D codes are marked to comply with the quality standards of various countries' lithium-ion battery production standards.
2D Code Marking on Sealing Tape
3-Axis Control
3-Axis controls allow MD-X laser markers to adjust their focal distances over a 42 mm range. As a result, each laser can perform clear marking on flat surfaces and 3D shapes (like cylinders). The 3-axis control allows for manufacturing versatility with lithium battery marking. Instead of only producing one type of lithium battery, lithium battery manufacturers can use one laser for multiple types of battery manufacturing.
Z Tracking
Part tilt occurs during production and transportation, which changes the target's focal point and makes marking more challenging for lithium battery manufacturers. The change in focal point makes the marks susceptible to errors like inconsistent contrast, or distorted characters.To solve this lithium battery marking problem, the MD-X Series has Z-tracking to address the issue.

Z-tracking measures the distance to a target object and automatically adjusts the laser beam's focal point to fit the new positioning.
Marking on a Flat Surface
Marking on a Cylindrical Surface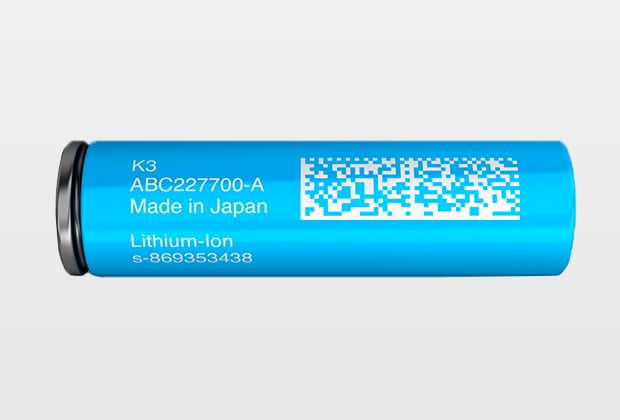 Removal of Foreign Matter from Electrodes
Foreign matter and / or oxide films on electrodes develop pores during the battery manufacturing welding process, which affects the weld's strength. Laser markers improve welding quality by cleaning the surfaces being joined.
3-Axis Control, Wide Area Coverage
3-Axis controls keep the laser beam in focus throughout the entire mark. Uniform marking can be performed over a wide marking area.
Conventional Models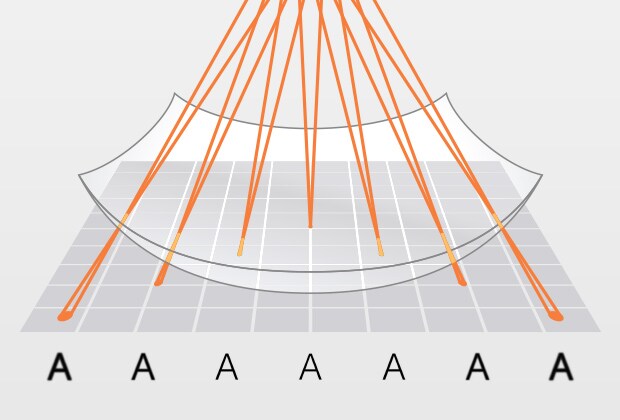 Characters become thicker and their positions are offset the closer they are to the edge of the area.
MD-X
Uniform line width and high precision are maintained over the entire area.
Battery Cover Surface Roughening
During the battery manufacturing process, the adhesion surface of the battery cover and case requires roughening to improve bonding strength. Laser light is used for this process because it roughens the surface without damaging the internal circuit.