Low-Distortion LensStandard low-distortion lens lineup featuring environmentally resistant models.
CA-LH/CA-LHxP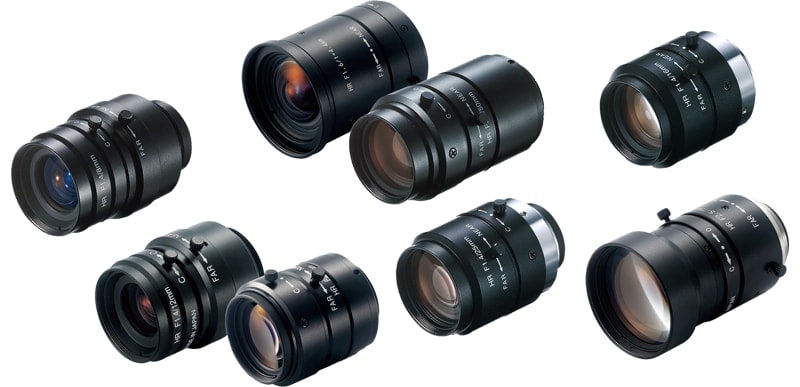 Minimum working distance
When compared to standard lenses the CA-LH Series has a significantly reduced minimum working distance.
This means that one lens can easily accommodate for a range of different target heights without the need for close up rings or troublesome change overs.
Lowest distortion in its class
With an original optical design, the CA-LH Series drastically eliminates distortion. This is of great significance when using machine vision for dimensional measurement or other applications that need high precision and performance.
Distortion is reduced to 0.01% or less. *
With CA-LH50 on 1/3" image sensor size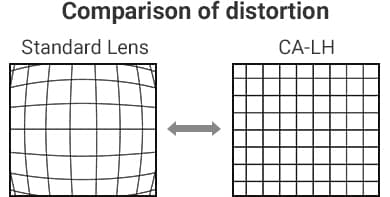 High performance
Using a floating mechanism that moves the front lens and rear lens individually, the CA-LH Series provides consistent optical performance across a wide range of working distances to maintain a sharp image. Contrast is also improved in comparison with standard lenses. Even targets with low contrast differences can be resolved effectively without components being blended together.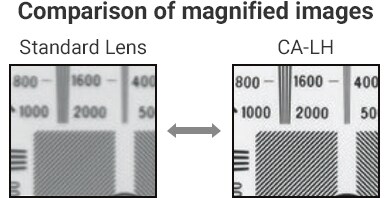 Environmentally resistant models
Enclosure rating IP64 applies when connected to the environmentally resistant cameras (CA-H Series or CA Series). For details, see the instruction manual supplied with the lens or environmentally resistant camera.
IP64 rated lens
This series can be used in areas that are prone to environmental problems such as powder, dust, and vibration. A fixed aperture resists vibration at factory sites. The IP64-rated lenses can be used safely in various environments.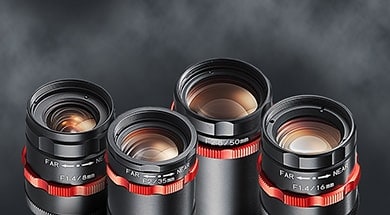 Locking the focus
After extending the lens to adjust focus, use the red ring to lock it. The construction of this locking section differs from the pin-point operation of a screw and performs fixing across a wide area, which makes it difficult for any loosening to occur. The sufficient focus adjustment width enables both a minimum working distance of 0.1 m and ease-of-use.