AI-Powered Code Reader
SR-X series
AI-Powered Code Reader
SR-X series
All-in-One Code Reader Built for Challenging Operations
Smart. Simple. Stable.
Introducing a compact, ultra-high performance code reader with built-in AI.
Strive for 100% read rates
Quickly identify the causes of errors
Incredibly easy for any user
Capture any target in any environment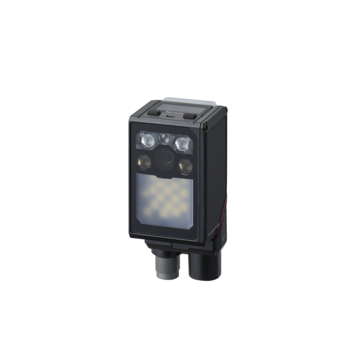 The SR-X Series of AI-powered code readers has a compact design - 72% smaller than our conventional models - while still providing high-performance reading for a wide variety of codes. The AI and latest decoding algorithms provide stable reading between processes, tracking changes in codes that occur from one process to the next. It is also possible to link code readers between processes for improved reading performance. With these connections, the operating status and current settings of readers on the same network can be viewed together in a list. Automatic focus adjustment and fully automatic tuning make setup easy with the press of a button.
Applications
Colour changes caused by heat treatment of lead frames

Hairline metal surface on battery case

Reflections on test tubes/bottles

Miniaturisation of IC parts
Features
Impressive Imaging Capabilities in an Integrated Design
With a typical camera lens, the corners of the captured image are distorted and essentially unusable for reading. KEYENCE's newly developed imaging lens makes effective use of the entire area captured by the CMOS image sensor, ensuring readability even in the corners of the image.
Ultra-compact imaging lens
New HDR wide CMOS
Built-in 3-way lighting (direct, polarised, diffused)
Integrated Lens, Lighting, and High-Resolution CMOS
The integrated design provides completely automatic configuration of the best settings with no need to select equipment or adjust settings. The reader automatically selects the optimal lighting conditions for the target.
Reliably Identify Codes
SR-X Drive: A New Decoding Algorithm from KEYENCE
AI filters help read difficult codes. Optimised specifically for code reading, the built-in inference-specific AI chip was created through learning of a database of over 100,000 images. This results in dramatically improved code reading performance.
Stains
Scratches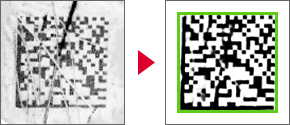 Rough Backgrounds
Uneven Cell Colour
Link Devices to Improve Reading and Analysis
Stable reading is possible regardless of code quality changes, and it is now possible to visualise changes between processes. The SR-X Series can connect readers on the same network, making it possible to analyse code changes for each process in real time. Linking the code information from readers in previous processes to those in subsequent processes makes reading possible for codes with glare, stains, scratches, or other damage.
Usable Anywhere
Capture any target in any environment.
Compact
The device has 72% less volume than conventional models in addition to offering impressively high-performance reading.
Rotating Connector
The cables can be rotated by up to 180° to suit the available space.
IP67 Enclosure Rating
The double-packed structure assures a high level of waterproofing.
Software Not Required for Analysis, Setup, or Monitoring
SR Web Tool
Simply enter the IP address of the SR-X Series device into a web browser on a tablet or PC on the same network to configure settings, collect statistics, and gather images for error analysis. Users can also manage multiple units from a single browser.
Setup: Web Navigator
Simple 3-button setup with remote operability.
Analysis: Web Traceability Tool
Use statistical information and error images to quickly track which readers failed to read a code, when, and why.
Monitoring: Web Multi Monitor
Monitor the operating status of multiple units in operation. Check that all devices are operating normally and use a single screen to monitor several devices at once (LiveView).