View Catalogue

I-SERIES Intelligent Sensor
I-SERIES Intelligent Sensor
In-Line, General-Purpose Analogue Laser Sensor with Low Cost & High Performance

High-Accuracy Measurement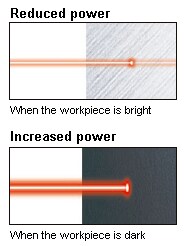 Supports a variety of work pieces [Measurement with higher stability]
The IA Series automatically controls and optimises laser power according to the reflectance of the target. As a result, stable measurement is possible for almost any target from black rubber to shiny metal surfaces.
Tough Head Structure
Use in almost any environment [Die cast metal used for IP67/optical base]
The head structure was redesigned to give the sensor the smallest body in its class and make it tough enough to withstand almost any environment. In addition, the optical base is made of die cast SUS304 for added strength and protection.
Easy Installation
Can be installed almost anywhere [Smallest body in its class]
The IA Series makes use of a unique aspherical lens to achieve the smallest head housing in its class. Head dimensions are 36 mm × 48.5 mm × 22.6 mm* and the head weight is just 50 g* (not including cable). Minimising the installation space required and reducing the weight, make it ideal for mounting on moving parts.
*IA-030
System Configurations
Analogue Output
Multi-stage setting supported
If analogue data is transmitted to a PLC, multilevel setting can be implemented to cover various workpieces, enabling a reduction in labor-hours.
Device feedback
Because the output is analogue, position information can be fed back and analogue control can be implemented.
I-SERIES Intelligent Sensor
View Catalogue