Self-Contained Full-Spectrum Sensor
LR-W series
Self-Contained Full-Spectrum Sensor
LR-W series
A Photoelectric Sensor that Detects any change in Appearance
This Full-Spectrum sensor features unmatched detecting capabilities that allows it to complete the simplest to the most complex applications with ease.
Features
Innovative Technology
The unique technology in the LR-W series allows it to analyse the full light spectrum. This series can detect everything from surface finish differences to colour changes that are hard to see with the naked eye.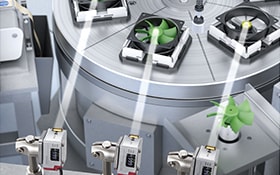 Flexibility
The LR-W features a 500 mm range, an adjustable beam spot, and high enclosure ratings. This allows the LR-W to solve more applications than any conventional photoelectric sensor.
Lasting Detection
The LR-W's metal housing and IP65/67 rating allow it to operate in tough environments. These features also mean it will last longer and require less maintenance than a conventional photoelectric sensor.
Unprecedented Functionality
Whether it is the 16 outputs, analogue signal, or network compatibility, the MU-N series combined with the LR-W maximises functionality unlike anything on the market.